Welcome to our Class Page!
This is the Hedgehogs Class Page. Here you will find information about what your child is learning, photos to show you the experiences your child has been taking part in, as well as top tips to support your child at home.
PE Day is Tuesdays. Please return your child's reading book everyday so that they can share their home reading book with an adult at school.
Please check back here regularly to see what we have been getting up to!
Miss Smith (Class Teacher), Miss Ramsden (Teaching Assistant) and Mrs Bradshaw (Teaching Assistant).
---
Practise your phonics at home!
See below for this week's Word Time! (01.07.22) Can you Fred Talk and read the words?
We learn a new sound everyday in school. This week we would like you to practise the 'nk' sound at home.
---
What are we learning this term?
Please have a look at our Termly Overview. This gives you a brief look at the areas of learning that will be taking place in Reception.
Reception Documents
This term we will be focussing on the following books which will support our theme work. We will also share and listen to other high quality fiction and non-fiction texts during our daily story times.
Reception Theme Books
What's coming up?
Little Lancashire Village - Monday 11th / Tuesday 12th / Wednesday 13th July
---
Summer Term (2) in Hedgehogs Class
This term we are learning all about the animals we might meet at the zoo! To support our learning we are visiting Knowsley Safari Park to see all the different animals that live there. Watch this space for photos of our learning this theme.
Knowsley Safari Park
On Thursday 23rd June Reception visited Knowsley Safari Park! We have been counting down the sleeps for over 3 weeks and so we were very excited that it was finally today! The children behaved beautifully on the double decker bus and even though it was a very warm day we listened so well. We enjoyed viewing the giraffes eating leaves with their really long tongues and we even managed to glimpse the tigers! They looked very hot and were having a big stretch in the sun. After we had our dinner it was time for the safari ride. We saw rhinos, camels, baboons, deer, antelope and ostriches! One cheeky ostrich was having a sunbathe in the middle of the road. We have learnt lots of new vocabulary and enjoyed the experience of being 'on safari'.
---
Summer Term (1) in Hedgehogs Class
This half term our theme is 'Once Upon a Time'. We have enjoyed learning all about the story of 'The Billy Goats Gruff'! We have retold the story using our puppet theatre and in our small world area. We used the Beebots and in small groups we made maps with a bridge then programmed the Beebots to cross the bridges! We listened to the story of 'Cinderella' and used puppets to retell the story. We talked about the characters in the story and in our talk partners we thought of words to describe the ugly sisters and Cinderella. See below to see photographs of us in action in the provision.
Moss Bank Park
On Tuesday 24th May we travelled on our minibuses to Moss Bank Park! We went through the walled gardens and looked at all the beautiful flowers and plants - we smelled and touched them and recognised some plants from our own garden at school! After that we enjoyed a walk around the park looking at the trees and wildlife. To finish our trip we went to the playground and had so much fun in the sand, on the climbing frame and on the swings! Some children had never experienced a swing before and they were all brave and determined to try!
Zoolab Visit
On Tuesday 17th May we had a very special visitor come to school…Zoolab! We have been eagerly awaiting this day and have made predictions about the animals we might meet. We decided it wouldn't be big animals like lions or elephants! We thought about the little animals that would be safe to come into school.
The children were all really brave when handling the animals and they were all so gentle and calm. First of all we got to meet Sheldon the African land snail who had over 10,000 teeth! Next we met Max the hissing Madagascan cockroach. His sticky feet tickled our hands. We learnt that they can eat almost ANYTHING – apart from glass, metal, brick and plastic! Then we met Athena the tarantula! She was very special as she had a pink patch on her body – we were very impressed with the web she had made too! Finally we got to meet our favourite creature, Milton the millipede who can grow up to 30cm long and live to 5 years old. Well done Reception, you were very brave today meeting all the unusual animals!
Road Safety Visit
Mrs Tinker came to visit Hedgehogs class to teach us all about how to stay safe when we are near or crossing roads. We learnt about the different vehicles we might see and how to cross the road safely, holding onto our adults hands or onto a pram. The children enjoyed seeing our own little lollipop man too!
Visiting Bolton Garden Centre
On Monday 9th May we travelled on our school minibuses to Bolton Garden Centre! This was to support our learning about plants, growth and change. We were eager to look at, smell and feel the different plants. We saw smooth, prickly and even furry leaves on the different plants! We enjoyed smelling the different varieties of lavenders. We spotted a bridge over a little stream and decided to 'Trip Trap' over the bridge, just like in the story of 'The Billy Goats Gruff'. After spending time looking around the garden centre we chose some plants that we thought would look beautiful in our Reception garden. We even paid for them at the till ourselves!
Eid Party 2022
We had so much fun celebrating Eid 2022 together. We enjoyed lovely party food, danced and celebrated together. Lots of children could share with their peers about the celebrations that they would be taking part in with their families.
Eid Mubarak!
---
Spring Term (2) in Hedgehogs Class
This half term our theme was 'On the Farm!' We learnt all about life on a farm, naming animals and finding out about their habitat. See below for photographs from our visit to Smithills Farm!
We also learnt all about the seasonal changes of this time of year. We found out about growth and spent time planting beans, which supported our learning of Jack and the Beanstalk. We also planted in our Reception garden and found out about the ways to grow and look after bulbs and plants.
Spring Walk
The children have been so excited to explore our school grounds and look for signs of spring! We had to wait until the weather was nice and bright and finally, on a sunny afternoon we headed out with our clipboards and checklists on the hunt for signs of spring. The children have learnt lots of new vocabulary including bud, shoot, blossom, daffodil and snowdrop!
Visit to Smithills Farm!
On Friday 18th March Hedgehog Class went on the bus and travelled to the farm! We have been doing lots of work in preparation for our trip and have been learning about the animals, jobs, buildings and vehicles on a farm and our learning really came to life on our trip! The children enjoyed handling different baby animals, riding a donkey, going on a tractor ride, feeding the animals and watching the cows get milked. We were all very brave for these new experiences.
Visit to Bolton Library & Aquarium
On Friday 11th March we were very lucky as we headed out of school, all got on the minibuses and went to Bolton Library! The children were all extremely well behaved as we left school; we listened to the adults and were polite and respectful - well done Hedgehog Class! First of all we went to the aquarium and we saw piranha, catfish and stingrays! After that we visited the library and spent time enjoying the fiction books with our friends. We were careful to look after the books as we have been learning how precious they are!
World Book Day
Hedgehog class had a wonderful time on World Book Day. We enjoyed dressing as different animals ready to learn all about one very special and very colourful elephant...Elmer! The children started the day by speaking aloud in front of their peers explaining what they were wearing for World Book Day. The children enjoyed listening to the story of Elmer in our beautiful library and then we created our very own patchwork Elmer's using bright collaging materials!
---
Spring Term (1) in Hedgehogs Class
Our theme this term was 'Winter Wonderland'.
We have also been very lucky to meet a real cycling champion Matt Rotherham and we even got to hold his paralympic gold medal and learn all about his sport! We listened so attentively and tried hard to ask Matt some interesting questions. Matt told us we need to work very hard at school so that maybe one day we might win a medal too!
---
Bikeability
Hedgehogs Class took part in a cycling proficiency course called 'Bikeability'. We developed our basic cycling skills including starting and pedalling, stopping, manouevring and using basic gears! We had a wonderful week and it was fantastic to see the children's confidence in their own cycling abilities grow over the course of the sessions!
---
Values Day
To celebrate our Values Day in Reception we learnt about 'FRIENDSHIP'. We talked to our partners about the qualities a 'friend' has and came up with excellent ideas. The children said "friends hug", "play together", "listen", "don't tell lies", "look after each other" and "cheer each other up". Wow - you are all such super friends! We then made friendship bracelets and gave them to our friends to symbolise our never ending friendships!
---
Christmas in Hedgehogs Class
Elf Run!
We had so much fun on our Elf Run. Due to poor weather we completed our Elf Run in the hall. We were wearing our beautiful Christmas jumpers and elf hats while we danced, jogged, walked or ran around the hall to raise money for Bolton Hospice. Well done Hedgehog Class!
---
Children in Need
The children enjoyed raising money for Children in Need by coming to school in fancy dress! We had a fun day, completing Joe Wicks workout and learning about this fantastic charity.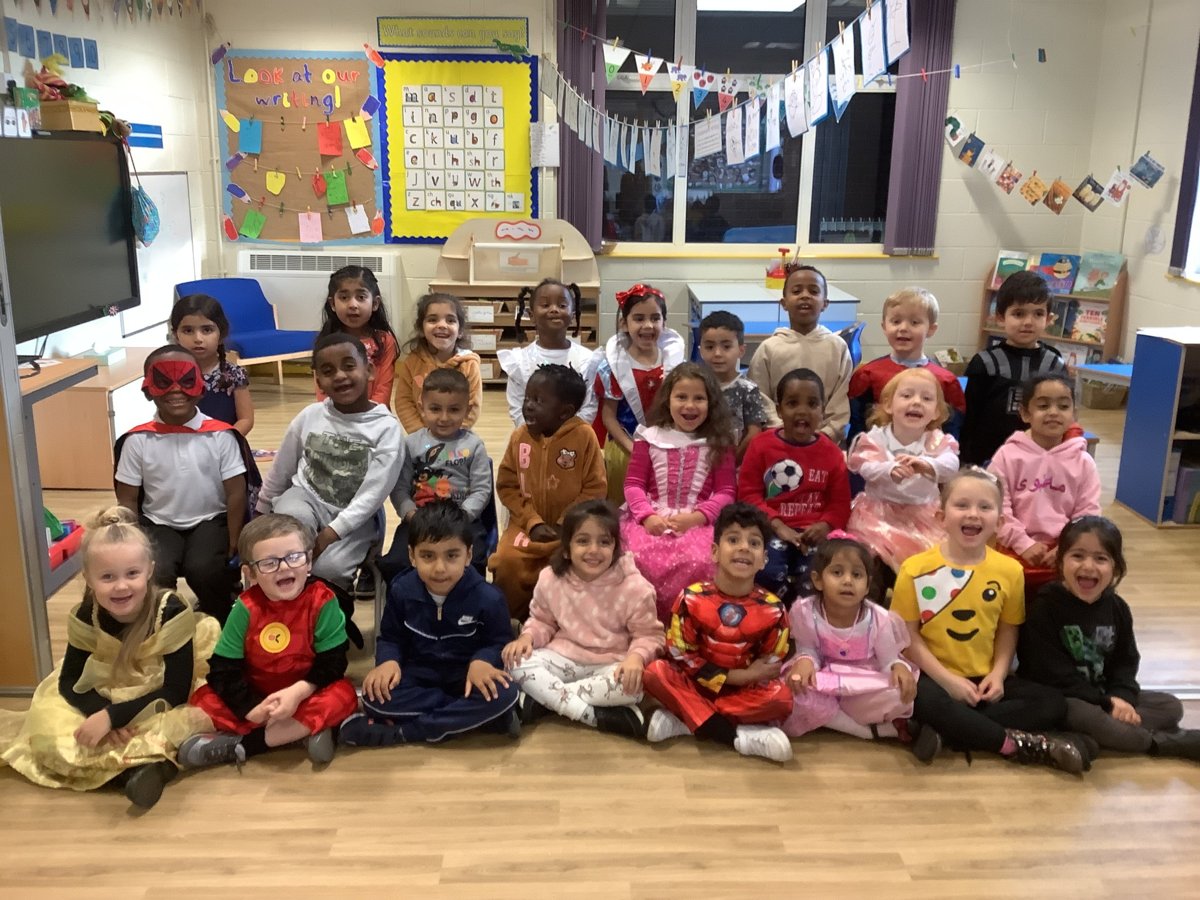 ---
Autumn Term in Hedgehogs Class
In Hedgehog Class we love to play and explore freely. We enjoy lots of new experiences and have opportunities to investigate new things. See below to have a look at just a handful of the things we have been doing.
---
Autumn Walk
We went on an Autumn Walk and explored the environment of our school. We hunted for signs that Autumn is here and found lots, using our checklists to guide us. We also learnt an Autumn Leaf song all about the changing colours we see at this beautiful time of year.
---
Communication is key to all that we do in Reception. We work so hard on our communication skills, including our speaking, listening and concentrating.
You can help your child at home by reading and following the '5 Golden Rules of Communication'.
5 Golden Rules for Communication
---
Reading in Reception
Reading is an essential part of each and every day in our Reception class! Each week your child will bring a reading book and reading record home which has been matched to their specific reading ability. Please read with your child as often as you can. Please return your child's reading book every day. Below you will find some tips for parents to make reading at home a success!
Reception Reading Documents
Your child will take part in a daily phonics session. They will learn to read letters by saying the sounds they represent. They can then start to read words by blending individual sounds together to make words, e.g. c-a-t... 'cat'.
Your child will also take part in daily story times where we share stories together as a class, in groups or individually. We love reading and we want your child to love reading too!
Every Friday your child will take home a library book - this might be a fiction or non-fiction book for your child to share with you and enjoy at home. Please return your child's library book each Friday so that they can choose a new one.
---
Learning Links
Below are some links to websites which will support the learning taking place in school. Click on the picture to visit the website.
---
Previous Learning
Please have a look at our previous learning.
Previous Half-Termly Overviews